POSTS
Khun daeng ngan phom?
So I've gotten a lot of requests to know how my Saturday, August 21st went…
We'd decided to go zip lining with my Thai friend Fon and another friend from frisbee AnnaRae. It was actually a pretty perfect day to head out, cloudy but not raining which was amazing considering it's been raining pretty constantly here. It was fairly cool even…well as cool as Bangkok, Thailand can get (86 degrees and 88% humidity). We headed north-east to ChonBuri to a tour called Fly with the Gibbons and after a brief introduction and getting geared up we were off on a 24 platform romp through the jungle…
Our guide couldn't say my name, Mel, so I became Miaw (Cat in Thai) and everytime I came to the platform prior to sailing off it, he felt the need to meow several times. Around platform 19 we asked if I was married, I said no, he asked it I had a boyfriend…I said you see the 6'5 man that you just sent off to the next platform? Him. He called Tyghe Yak (but don't pronounce the 'k' really and say it with emphasis on the 'a' sound), it means giant apparently.  He then proceeded to 'marry' AnnaRae on the next platform where you could go two at a time. AnnaRae said she'd fly over there with him and he surmised that now it would mean they were married.
The longest line was 300 m and I think the highest line was around 100 m? Our final repel, or rather they called it something else because we didn't actually repel but were more 'let down' by rope–was from 50 m. All in all it was pretty awesome, didn't see any Gibbons but went to the zoo afterward and saw a ton of animals. Amazing how close they let you too the animals…we're talking petting zoo close to a white rhino, a giraffe and a pygmy hippopatomus. A lot of the vendors sold food you could feed the animals with. And of course monkey's galore. We came across what they call a 'small bear', I don't really know what it really is, but it was quite cute…a trainer was holding it and let it walked all over us and pose for pictures. Tyghe and AnnaRae posted pictures of our excursion.
So in the sum of my life I have been walked on, sat on or peed on by the following animals: dogs, cats, small birds, squirrel monkeys, brown monkeys, macaws, elephants (I sat on it, it didn't sit on me!), the little bear, an ecuadorian raccoon like animal, geckos, jackons (another type of lizard that changes color), the ecuadorian version of the 'little bear'–it was golden, not black and cockroaches…awesome.
After the zoo we headed , changed and Tyghe suggested we head to the roof of our building. Our buidling has 35 floors, the top floor has a garden that overlooks the city, it's a pretty fantastic view. We'd never been up there at night and you can even seen a bridge that changes colors. So we headed up there with snacks and drinks and to check ou the view…
We got the elevator and Tyghe said he'd forgotten his camera so he went back to the room while I attempted to hold the elevator which didn't work. 5 min later he returned.
While we were chatting he asked me if I remembered anything about that day…that is was one year since he'd first told me he loved me. And with that he got down on one knee and proposed…at least that's what I assumed given he pulled out a ring.
Why was I assuming? Because he did it in Thai 😀 and I had no idea what he'd said, haha!
"Khun daeng gnan gap phom?"
For all I knew I was committing to take out the garbage for the rest of our lives :).
And of course I said yes.
Photos of the ring are below. There isn't one of it on my finger becasue my camera phone sucks, so these will have to do…
So…flying through the jungle, thai guide propositioning (and meow-ing), close encounters with wildlife and yet…
The highlight of my entire day occurred 35 stories up on a roof overlooking Bangkok when the man I love asked me to marry him.
All in all…a good day.
<3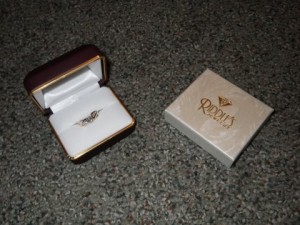 Riddles Jewelry in Montana… He sat on the ring for 4 months! Impressive